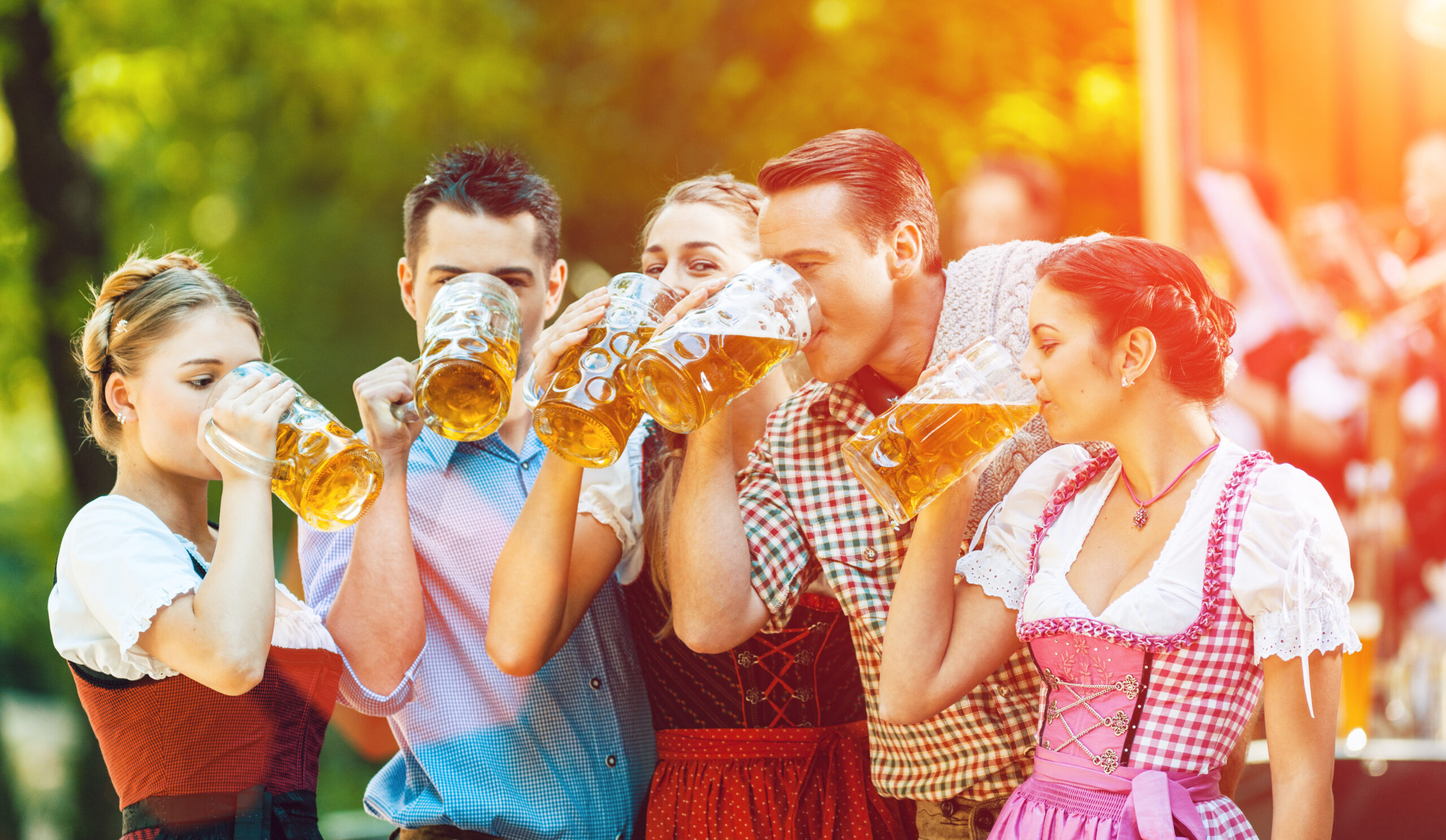 Rent a traditional Bavarian outfit
Dirndl & Lederhose rental Munich
Rent an outfit
– super easy
Simply choose the date, pick-up or delivery option, and desired size when making the reservation. That's how easy it is to rent an authentic Bavarian outfit like Dirndl or Lederhose . The reservation for pick-up is free, and payment will only be made upon pick-up of the dirndl or lederhosen at the location. Renting made easy!!
From 10 people onwards, we offer group discounts.
During Oktoberfest, we are open daily from 09:00 am to 06:00 pm at both locations.
The easiest way is for you to simply pick up your traditional costumes at one of our stores. This way, you can also try them on beforehand. To do this, just select the option "Pickup" and choose the appropriate store during the ordering process.
During Oktoberfest, we also offer the service of delivering your traditional costumes to a hotel and picking them up the next day. You can book this service directly through our online shop. A minimum order quantity of 5 costumes is required for this service.
In our stores, we accept cash, debit cards, Mastercard, Visa, and AMEX.
Dirndl & Lederhose
Sharing is caring! Renting a pair of leather pants or a dirndl (bavarian dress) is all the rage. The benefits are clear. Besides the ecological aspect, you also save money by renting traditional outfits instead of buying it. With us, you get authentic Bavarian clothing, not polyester dirndls or cheap leather imitations. Why not give it a try?
Dirndl rental for groups and corporate clients
For groups of 10 or more people, we offer special conditions. For corporate groups, we provide a comprehensive service from delivery to the hotel, ready-packed traditional costumes in personalized bags, to on-site service with mobile changing rooms. Request an offer today.
Dirndl
Dirndl incl. blouse & apron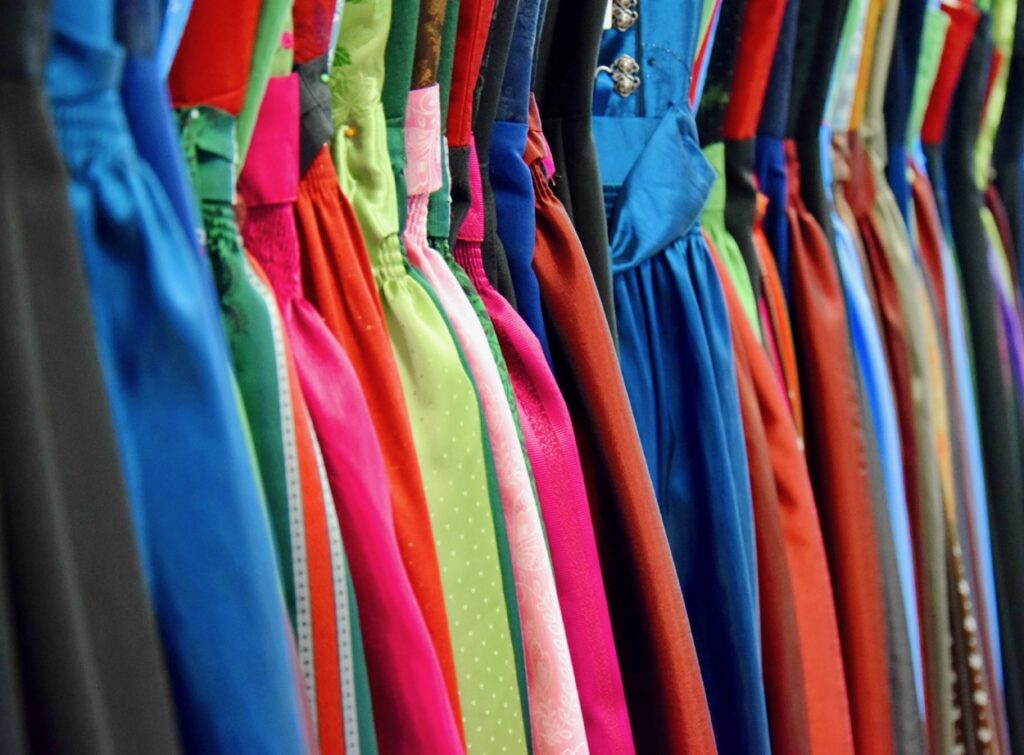 over 70 different models
50% discount on the 2nd rental day
incl blouse & apron
many different colors
Lederhose Set
incl. traditional shirt & socks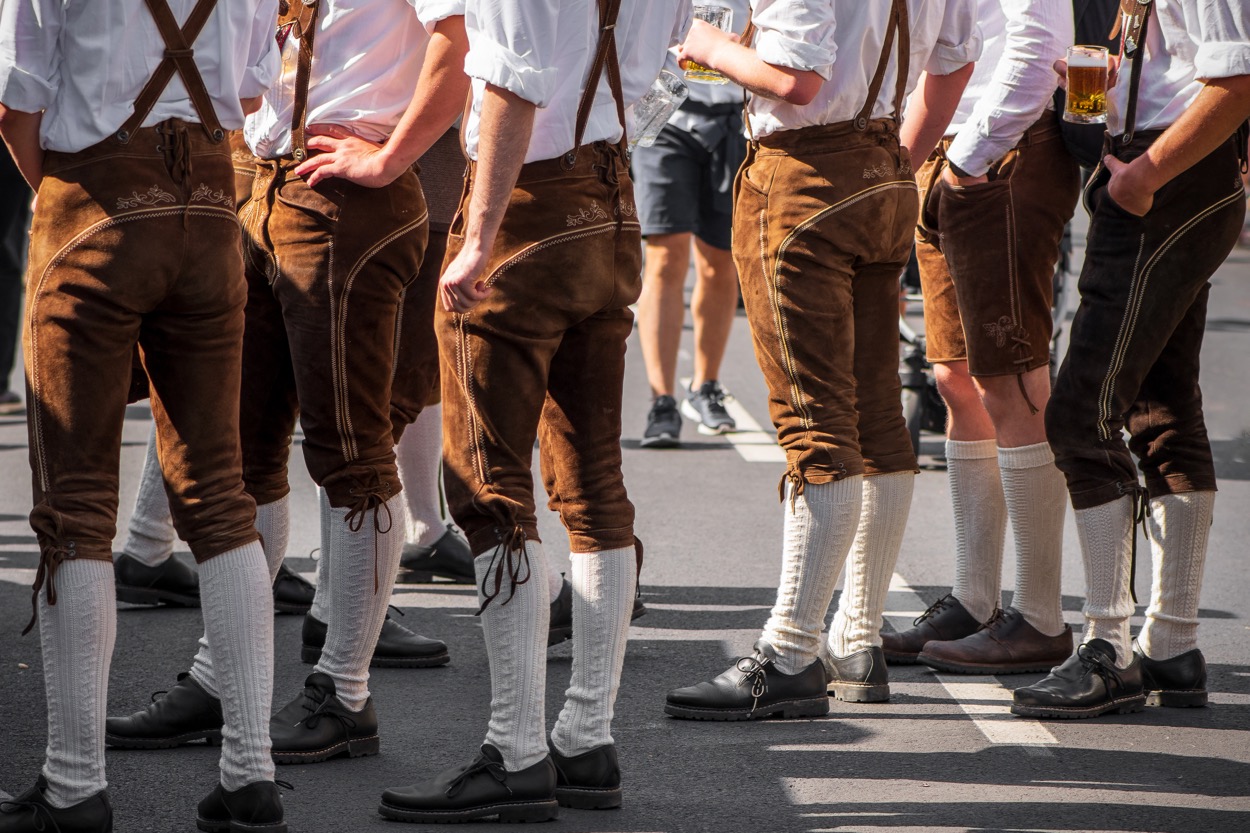 checked and white shirts
many different styles
50% discount on the second rental day
with traditional braces
Lederhose
Lederhose with traditional braces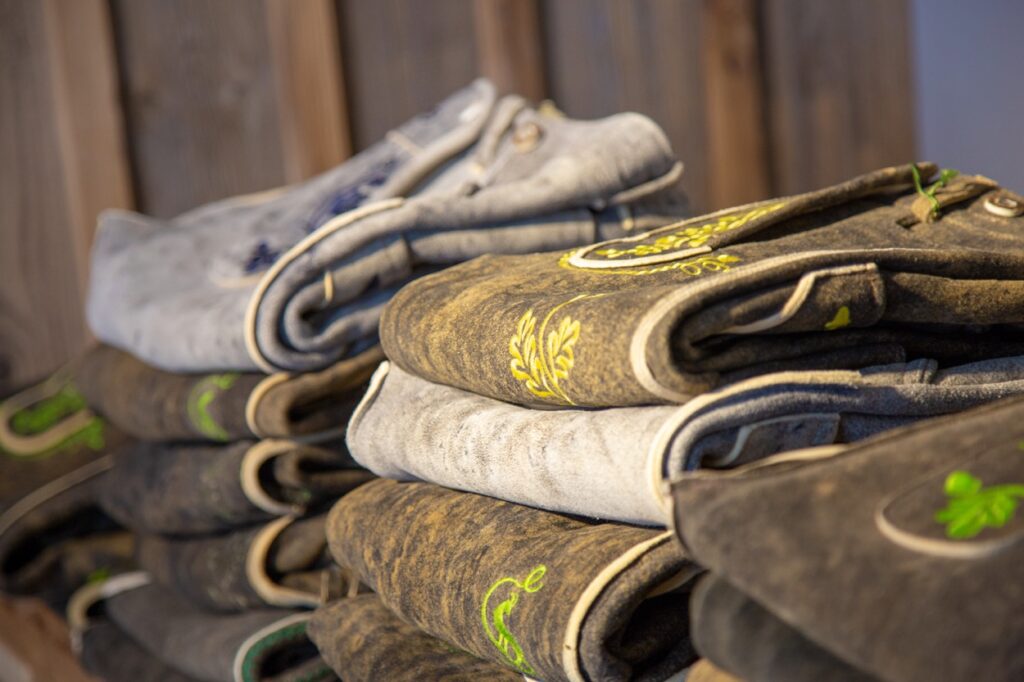 kneelength or shorts
many different models
many different models
50% discount on the second rental day
*per day / incl VAT
---
Super freundliches Team:) Leichte, flexible und unkomplizierte Buchung und eine wirklich tolle Auswahl an Modellen und Größen. Ich hab mich rundum wohlgefühlt in "meinem" Dirndl und war bestimmt nicht zum letzten Mal dort.
Tobias Göppert
2023-05-10
Hat wunderbar alles geklappt. Wurde hervorragend beraten und es gab eine tolle Auswahl. Rückgabe hat auch ohne Probleme geklappt. Bin also rundum zufrieden.
ivan jaume cantero
2023-05-09
Bons trajus a bon preu
Sehr guter Service, gute Auswahl an Trachten, gerne wieder!
Charlotte Wellekens
2023-05-03
Very friendly and helpful staff. Good choice of tyical outfit to enjoy the Bavarian traditions. Perfect !
Delaney Vandemore
2023-05-02
Great authentic rentals and super easy to work with!!
danielle hedeen
2023-05-02
They were super convenient, quick and helpful for a study abroad student looking to rent for two Days!
Charles Solanki
2023-05-01
High quality, authentic clothes. Perfect for a weekend in Munich visiting Oktoberfest/Fruhlingsfest and not too expensive.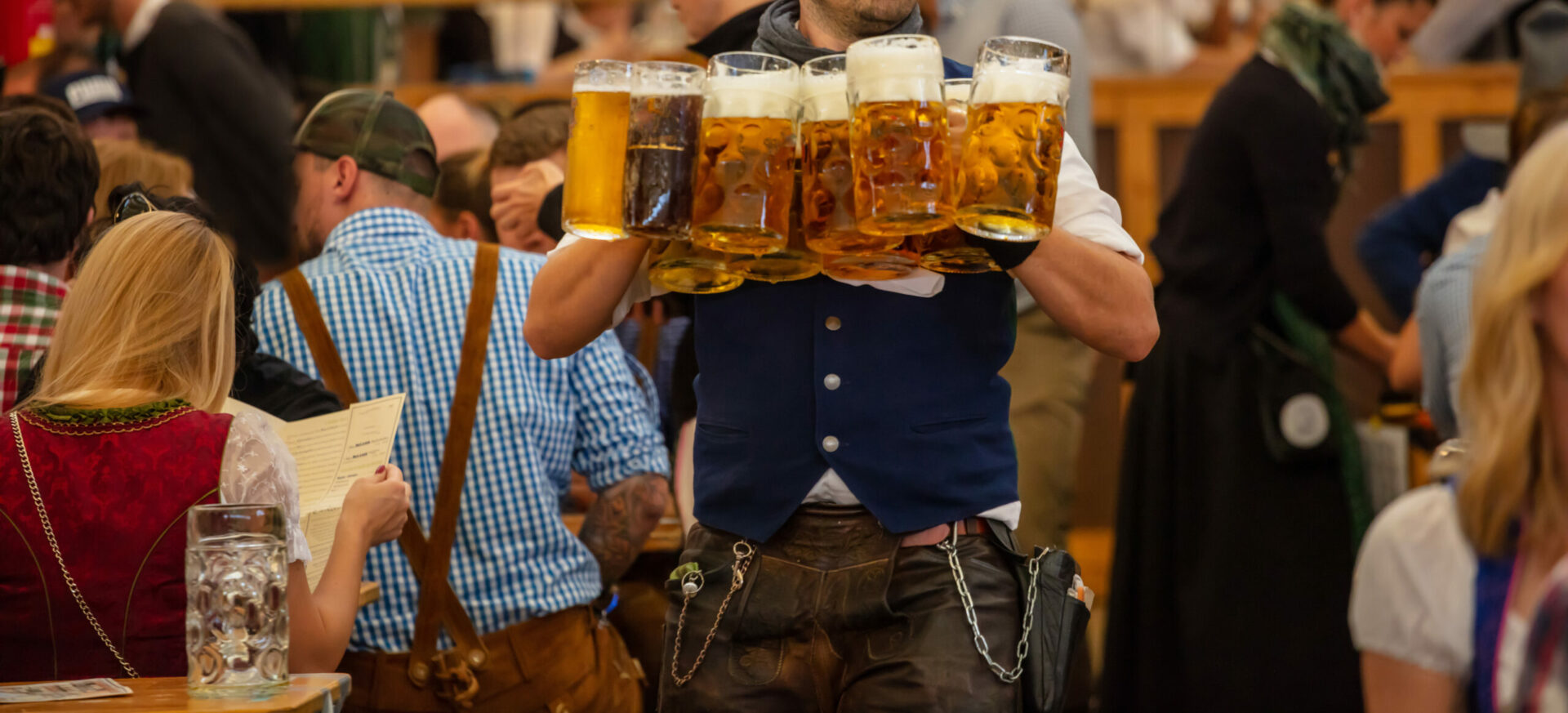 Dirndl rental during Oktoberfest
The Dirndl (Bavarian Oktoberfest outfit) and Lederhose (traditional Bavarian leather pants) has been increasingly popular in recent years. While it used to be a symbol of exotic South German folklore 20 years ago, it has made its way into the wardrobes of fashion-conscious ladies and gentlemen far beyond the Bavarian borders. Both celebrities and notable figures in the political arena make a good impression in public with it. The characteristic cut of the Dirndl and its exceptional color scheme are the perfect way to combine feminine charm with respect for Bavarian tradition, without looking like a costume. As versatile as this timeless fashionable garment is for public use, women still prefer to wear it at Oktoberfest!
You can easily pick up your traditional outfit at your chosen location of our shops. Please check the respective opening hours.
Daily from 09:00 am to 06:00 pm
MON – THU 09.00am – 14.00pm
FRI 09.00am – 18.00pm
SAT 09.00am – 15.00pm
SUN 09.00 – 12.00 (only returns)
During the off-season, we do not have fixed opening hours. Please call us or contact us to schedule an appointment.
Store 1
Auenstraße 31, 80469 München
+49 89 74034500
Store 2
Schwanthaler Straße 83, 80336 München
+49 89 74034501
Renting dirndl, lederhosen, and traditional costumes – advantages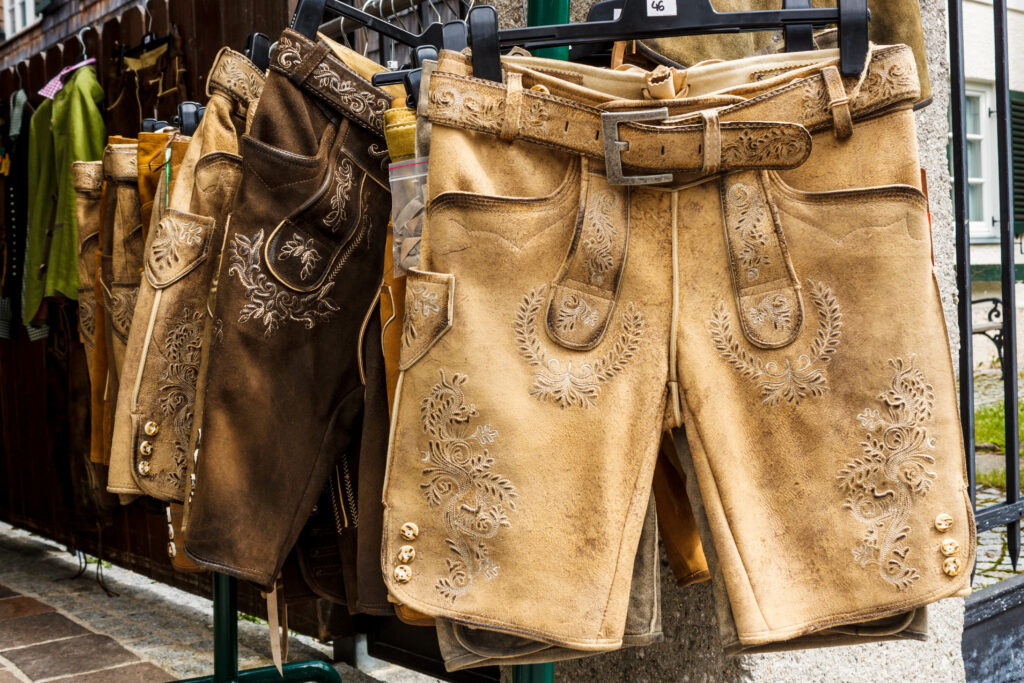 No expensive purchase
By borrowing Bavarian traditional costumes like Dirndl or Lederhosen, one can save the costs of buying these traditional clothing items, which are often not cheap.
Comfortable
It saves time and effort as one does not have to take care of the proper cleaning and maintenance of the material themselves.
Sustainable
By renting traditional Bavarian costumes, you contribute to sustainability as you don't have to buy new clothing items that may only be worn once a year.
We have over 1200 leather trousers and 800 dirndls available for rent in our warehouses. Our main season is Oktoberfest, but you can also rent your desired traditional costume from us throughout the year. Whether it's for a company party or a wedding, we have the appropriate attire for every occasion.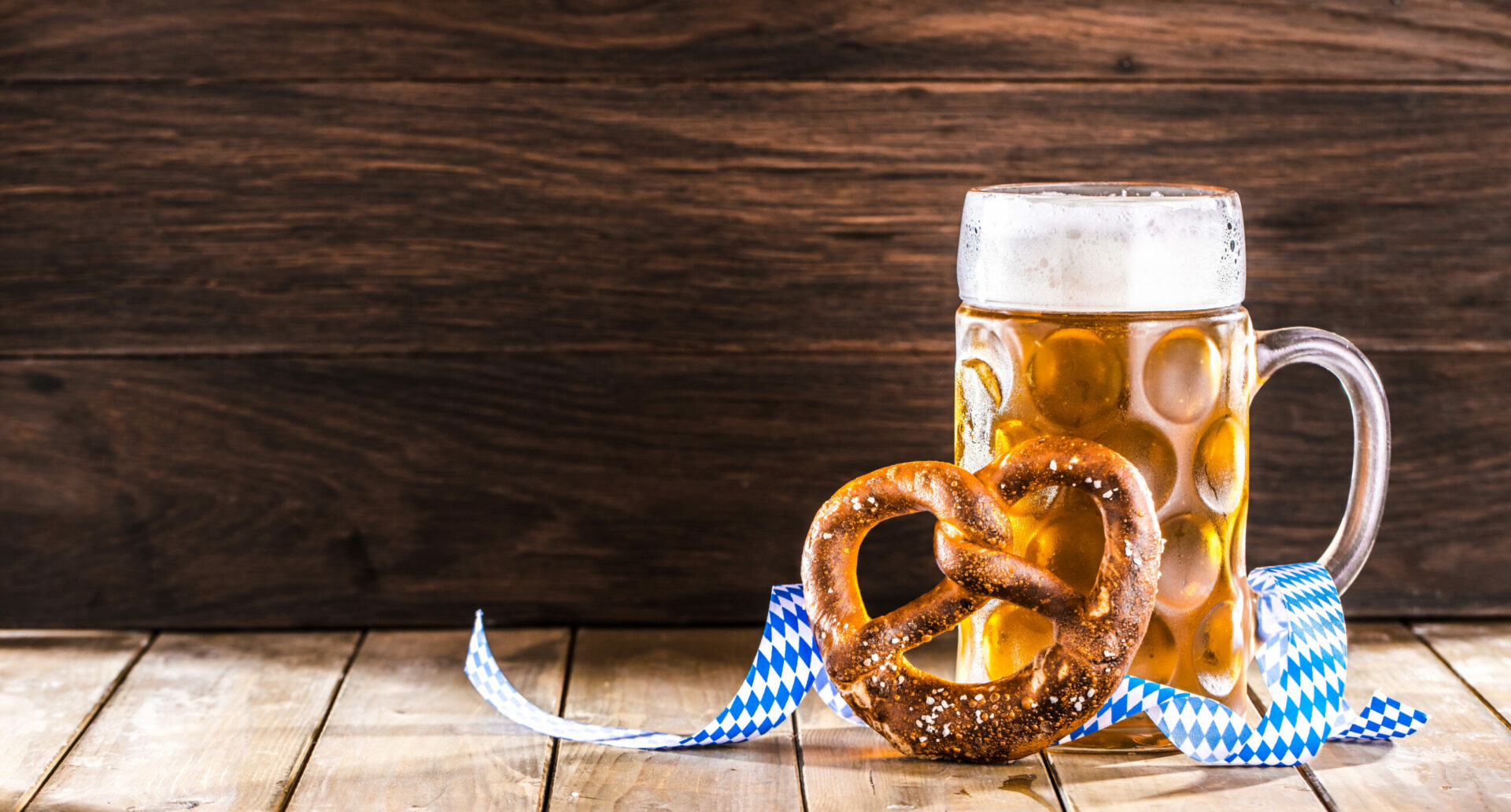 Your Bavarian outfit rental
in Munich
Our traditional costumes are characterized by their high-quality craftsmanship and authentic designs. We place great importance on the selection of materials to ensure that you feel comfortable and stylish in your costume.
Our range includes dirndls for women in various lengths and colors, lederhosen for men in different cuts and styles, as well as traditional shirts, socks, and Haferl shoes.
At dirndl-leihen.de, we value excellent customer service. Our team is happy to assist you in choosing your costume and ensuring that you find the perfect fit.